---
What is this Android screen & what can it do?
Are you bored with the standard iDrive system, and want to get more out of it?
Does the newer versions of iDrive look appealing until you see the cost of getting it supplied and fitted?
Want to get more from your standard iDrive, but with more functionality, streamlined integration to your phone, in a completely factory looking way that doesn't stick out at a reasonable price?
That pretty much sums up our Android screens. A completely factory looking touchscreen Android system, that replaces your current screen while maintaining your factory iDrive system along with introducing a new Android interface that has unlimited potential - make your iDrive system useful again!
What happens to my current iDrive & how does this Android screen integrate into my car?
This Android screen replaces your current iDrive screen
The wiring harness to power the Android screen comes from your current iDrive unit (situated behind where the touch buttons are)
You retain all your current iDrive functionality
When you start the car, the screen will display your factory iDrive system
Hold down the 'menu' button on your iDrive controller for two seconds, and it'll switch over to the new Android iDrive interface
You can choose the look and feel of the Android iDrive - CIC, NBT, NBT EVO ID5/ID6 etc
Use your steering wheel controls & iDrive controller as normal with the Android iDrive
What's the difference between this Android screen and the others (AvinUSA etc)
Simply one reason - we only use the best manufacturer of these units who offer their stock to top retailers across the globe, and we're happy to say that we're one of them!
Our screens are made by the same manufacturers as the Avin USA screens, which mean that we can offer a lower price point that Avin USA resellers, along with providing factory level support for bug fixes/additional features that Avin USA resellers can't!
Where are these units, how long for delivery, and are there any fees payable?
We have a small amount of stock on site in our business premises in Oldbury, but if we don't have your unit in stock, we'll be able to have imported from our manufacturer in China to our business premises within a maximum of 10 days.
The price you see on the website is the price you pay, all of the following is paid by us in full:
Shipping charge
Customs charge
VAT charge
Disimbursment charge
Will this Android screen fit my car?
This particular Android screen will fit the following cars:
BMW 5 Series (F07 GT - 5 door) 2008 - 2017
Please ensure that you select the correct option for your current iDrive situation - our Android units differ between these combinations! You can find more information below in the 'How do I find out what my current iDrive system is', or if in doubt pop us a message.
Free Dealer Diagnostics
Assorted items with the Android Screen

Main plug & play harness
USB harness with two USB type A female sockets
External GPS antenna
Male to male 3.5mm cable
DVR in (single video in from RCA)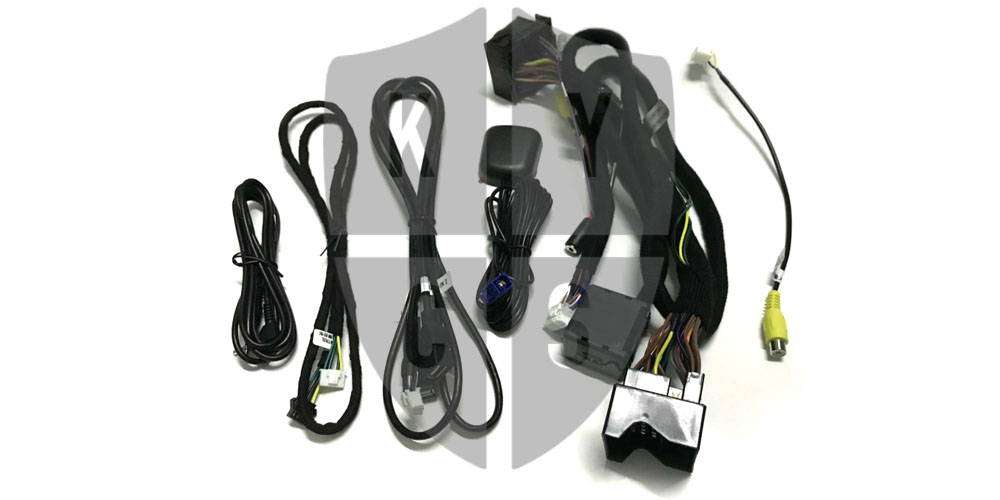 System Version: 8.1
CPU: Rockchip PX6 (RK3399) 6 core: Dual Cortex A72 (1.8GHz) + Quad Cortex A53 (1.4GHz) 64 bit
RAM: LPDDR4 2GB
Onboard Storage: EMMC 32GB
GPU: Mali-T860
Screen Type & Resolution: 10.25" Capacitive touch screen 1280x480
Bluetooth: BC6 Bluetooth 3.0
Wifi: Realtek RTL8189ETV supporting 802.11BGN 2.4GHZ
GPS: U-BLOX GPS
Audio: Onboard RK616
3G/4G: Optional - specific dongle/adapter supported
CarPlay & Android Auto: Optional - specific dongle/adapter supported
Dash Cam/DVR: Optional - specific USB 2.0 & generic AV/CVBS supported
Video Playback Formats: Supports H264, MP4, AVI, RMVB, FLV, MKV & more
Audio Playback Formats: Supports MP3, WMA, FLAC, APE, AAC & more
USB: 2 USB cables as standard, supporting up to 64GB flash drives
SD Card: 1 SD card slot, supporting up to 32GB
Phonelink: Airplay (for iOS), Miracast (Android)
Microphone: Build in microphone & supports external microphone
Reversing Camera: Supports OEM reversing camera, along with AV/CVBS camera
PDC: Supports OEM PDC
---
Android 4.4.4 comes with a 1.2GHz quad core PX3 processor (64 bit) with 1GB RAM, and 16GB of onboard storage. Other features are the same as the Android 8.1 unit.
How do I find out what my current iDrive system is?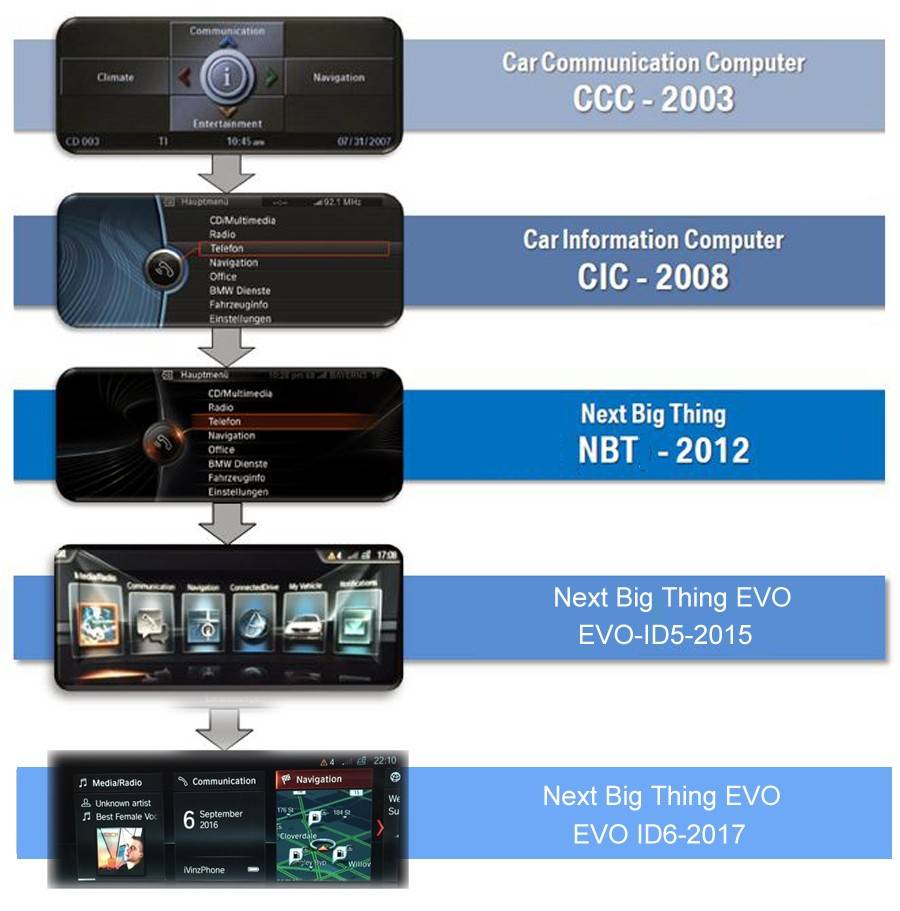 There's a bug/issue on the Android Screen - can you fix this?
Yes we can!
Another advantage of buying from us is our support. Because we're not just a reseller, we have a direct support channel with the manufacturer who can write specific updates for issues (called MCU updates) within a matter of minutes.
Are you able to supply OS updates?
Of course! We release the OS updates as soon as they become available and have passed our internal testing on our screens fitted to our personal vehicles.
Reverse Camera
The reverse camera supplied will be integrated into the number plate light.
DVR Dash Camera
If the DVR Dash Camera accessory is selected, we will need to confirm your current rear view mirror casing which we will do within 48 hours of your order completion.
Apple CarPlay/Android Auto Adapter
Our adapter integrates with our Android screen with full functionality, and all factory iDrive controllers will work with CarPlay to scroll through.
Your order can be amended up to 48 hours after ordering, so if you'd like to add or remove accessories during this time period, we can do that for you.
We provide a 12 month warranty from the date of your invoice which is return to manufacturer providing that the product has normal usage and is in fair condition.
The warranty does not cover the following:
Accident, neglect, abuse, or acts of force majeure
Unauthorised repair or modification of the products, both hardware and software
Failure to install or use the product in accordance with the instruction or use of this product other than for its intended purpose
The TFT screen
Associated Service - Dealer Diagnostic
Performed under the assumption that all modules coded are either factory installed & programmed, or replacements are correctly programmed, coded, and initialised using the replacement procedure performed by BMW UK registered franchises or BMW specialists. We will not be held liable for any coding/module faults/errors that arise during diagnostics, either due to assumptions from above, or for any other factors (but will assist in the the repair). Battery voltage is stabilised at a minimum of 13.7V using a dealer approved power processor. Diagnostics is supplied as-is, on a one-time basis. Keep Your Car Safe - KYCS owns all photographic media taken by team members of the services paid for and completed.
---
Still not sure about our Android Screen?
We understand that it's a fair investment to purchase our Android Screens - that's why we want you to be 100% happy with what you're getting!
In all of our cars we have our Android Screens installed, with a fair amount of options installed in them. If you want to have a look and play around with the Android Screens, by all means let us know and you can pop down to our business premises to explore them to your hearts content.