E90 E91 Pre LCI - Round Angel Eyes (3 Series Halogen Headlights)
Regular price
£725.00 GBP
Regular price
Sale price
£725.00 GBP
Unit price
per
Sale
(EXCL. TAX)
Product Information
You're purchasing a custom headlight conversion service for a pair of headlights which includes the following:
Headlight opening, old sealant removal & internal chemical cleaning
Satin black surrounds with gloss black projector shrouds 

KYCS

angel eyes in white (the style in product photos)
RHD (LHD also available) 2.5" bi-LED projectors with H1 LED bulbs for low and high beams which are MOT legal
Dummy projector within the redundant high beam opening

Headlight sealing
1-year warranty including products & workmanship
This is a headlight modification service which requires a set of your own headlights to work on. This service does not include the headlights.
Pictures on this page are of conversions that we have carried out with various specifications and are to be used for reference only. Your headlights will be built to the specification you purchase. 


Build Your Custom Headlights
Share
Important Information

All photos will show the advertised service that we offer, however may have had additional options added onto the build not included within the base price or show existing modifications on clients cars (for example US side markers, or tinted/PPF'd headlight lenses.

Every set of our headlights are skillfully & expertly built by hand by our masterful build & design technicians, and may include one or more of the following; our own custom made mounting brackets, methods of securing components, 3D printed/in-house fabricated items, control units, and wiring looms. These will be installed or carried out to as close as OEM mass produced fashion as possible, however may contain very slight differences from OEM and/or very minor imperfections (within our company defined tolerances) as our services are not carried by assembly line machines.

Please consider the above when purchasing our custom headlights. If you have any questions, or are unsure of anything, please contact us! We'd rather you ask 100 questions prior to purchase to clarify instead of you receiving something different from what you expected.
Vehicle & headlight fitment

This will only fit all E90/E91 pre LCI vehicles equipped with halogen headlights
Lead & build time

Lead time is usually between 2-3 months, with a turnaround time of 7-14 days depending on specification. Once we have your order, we'll be in touch to confirm completion dates.
Payment

Payment for the build can either be 50% down as a deposit by using the discount code 'ch-deposit', or payment in full.

We accept all debit cards, credit cards, Apple Pay and Google Pay.
0% financing is available through Klarna - 3 payments over 3 months.


If you're using our 'Core exchange program' the deposit must be paid through a card, and not via Klarna.
Road legality
Core exchange program
Care information
Guarantee/warranty
T&Cs
Return & refunds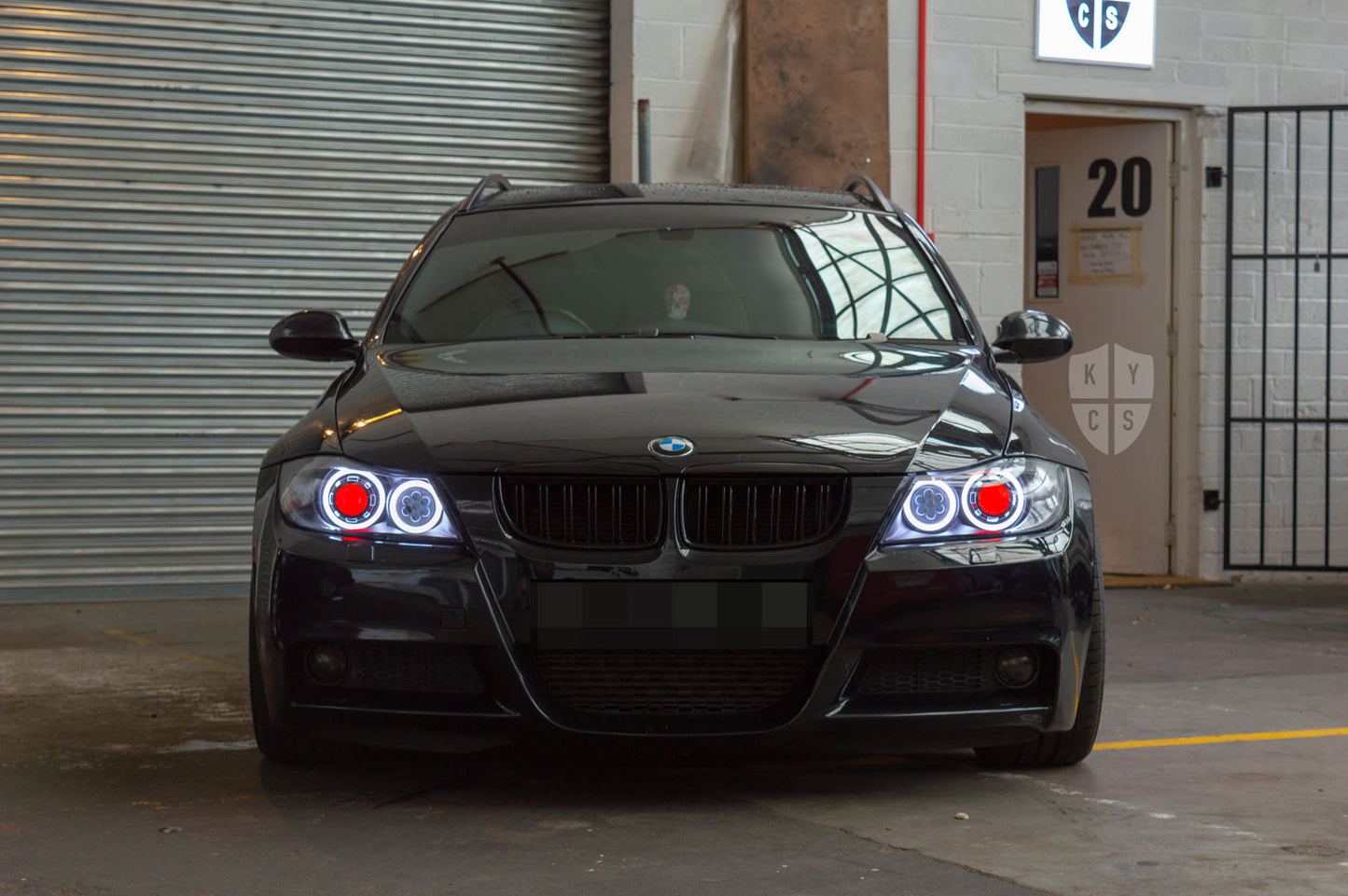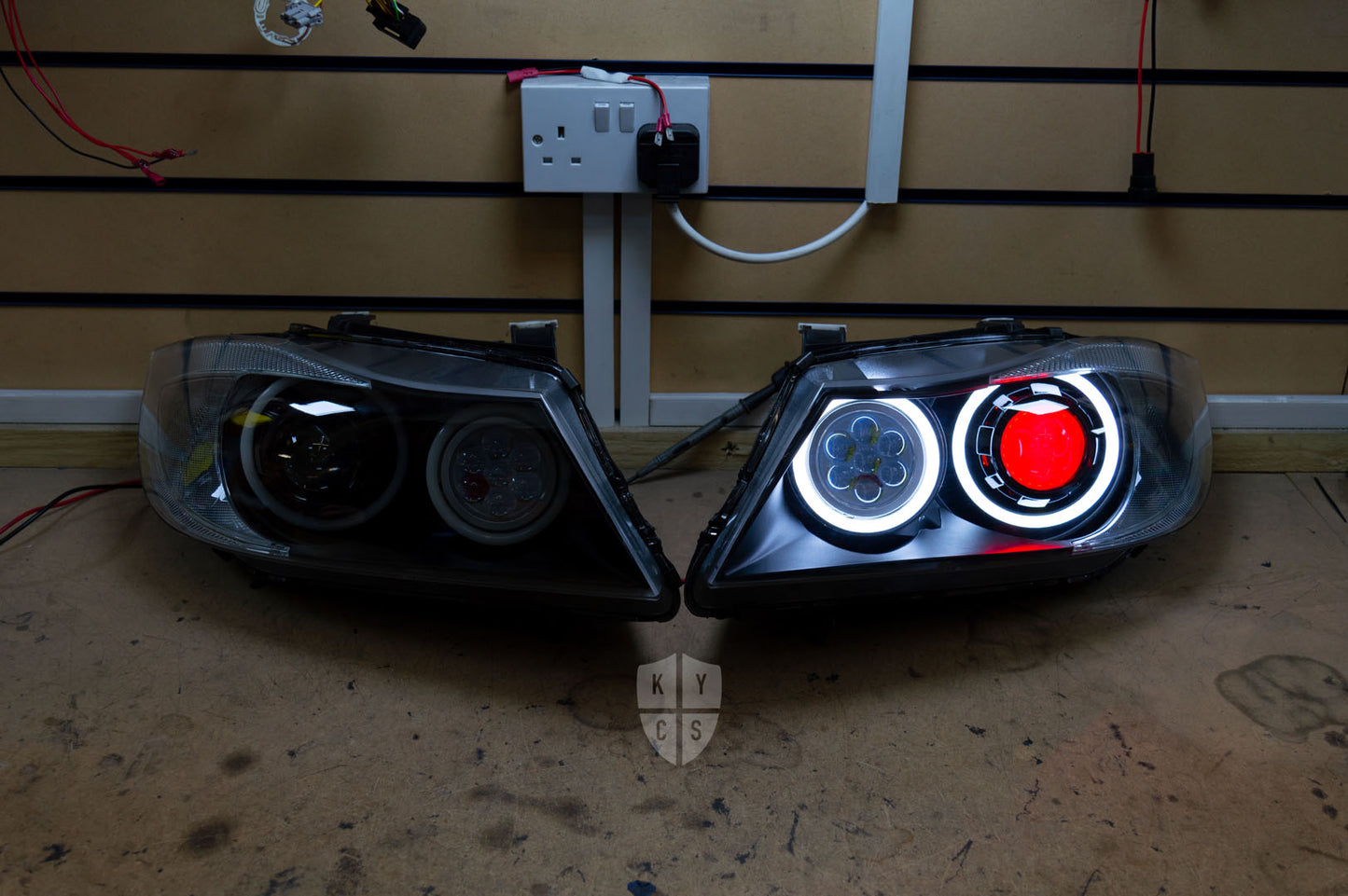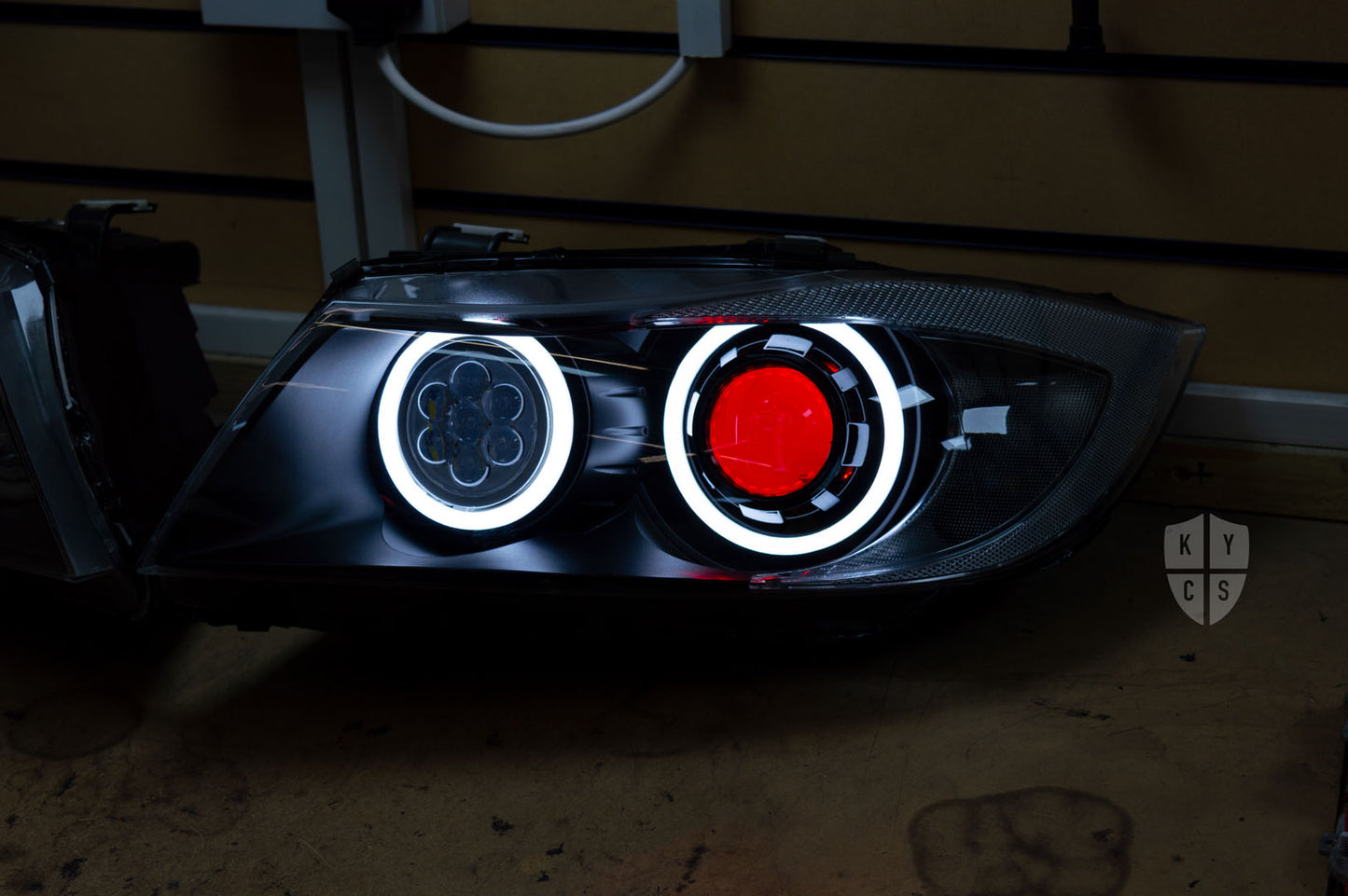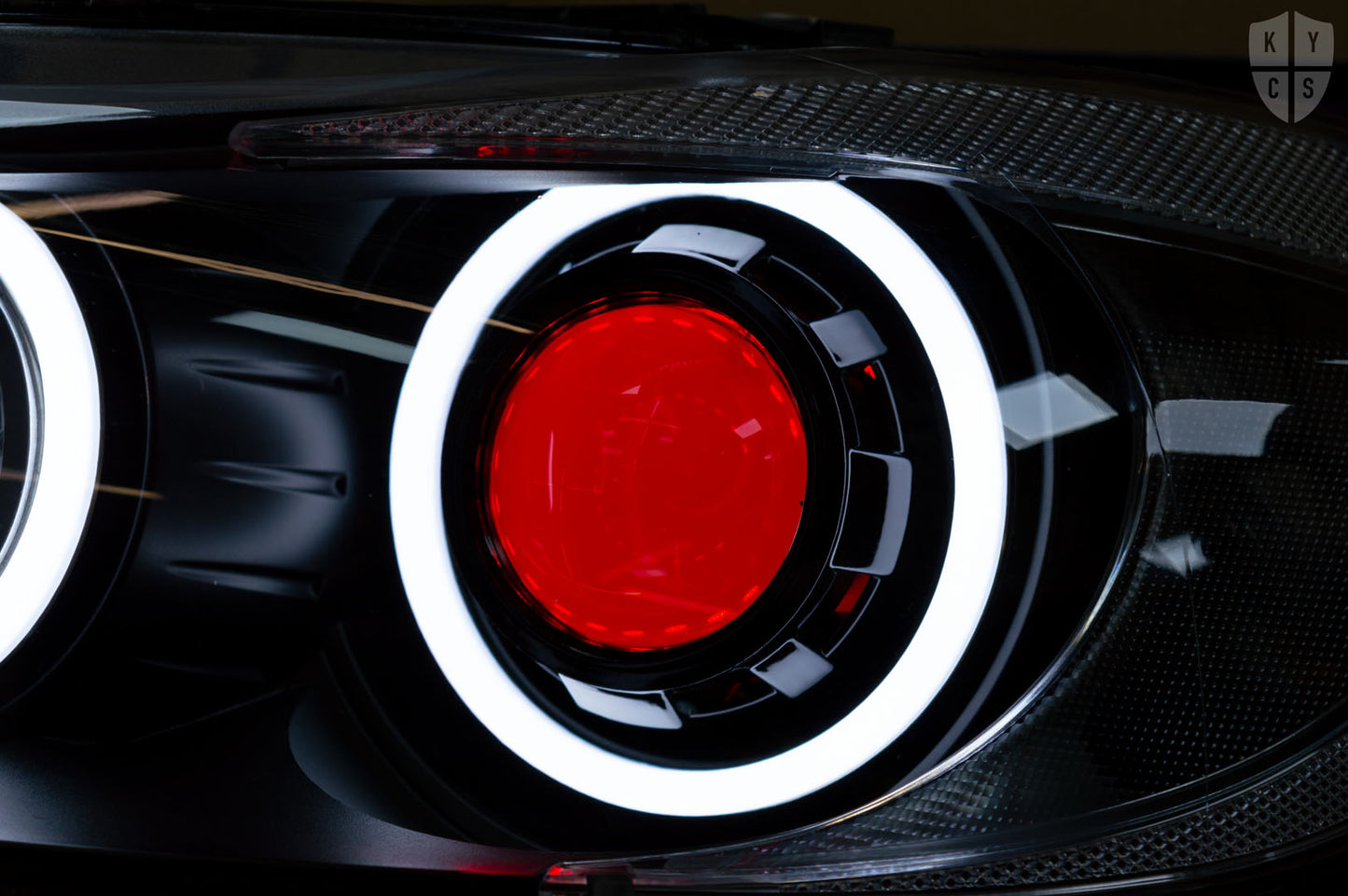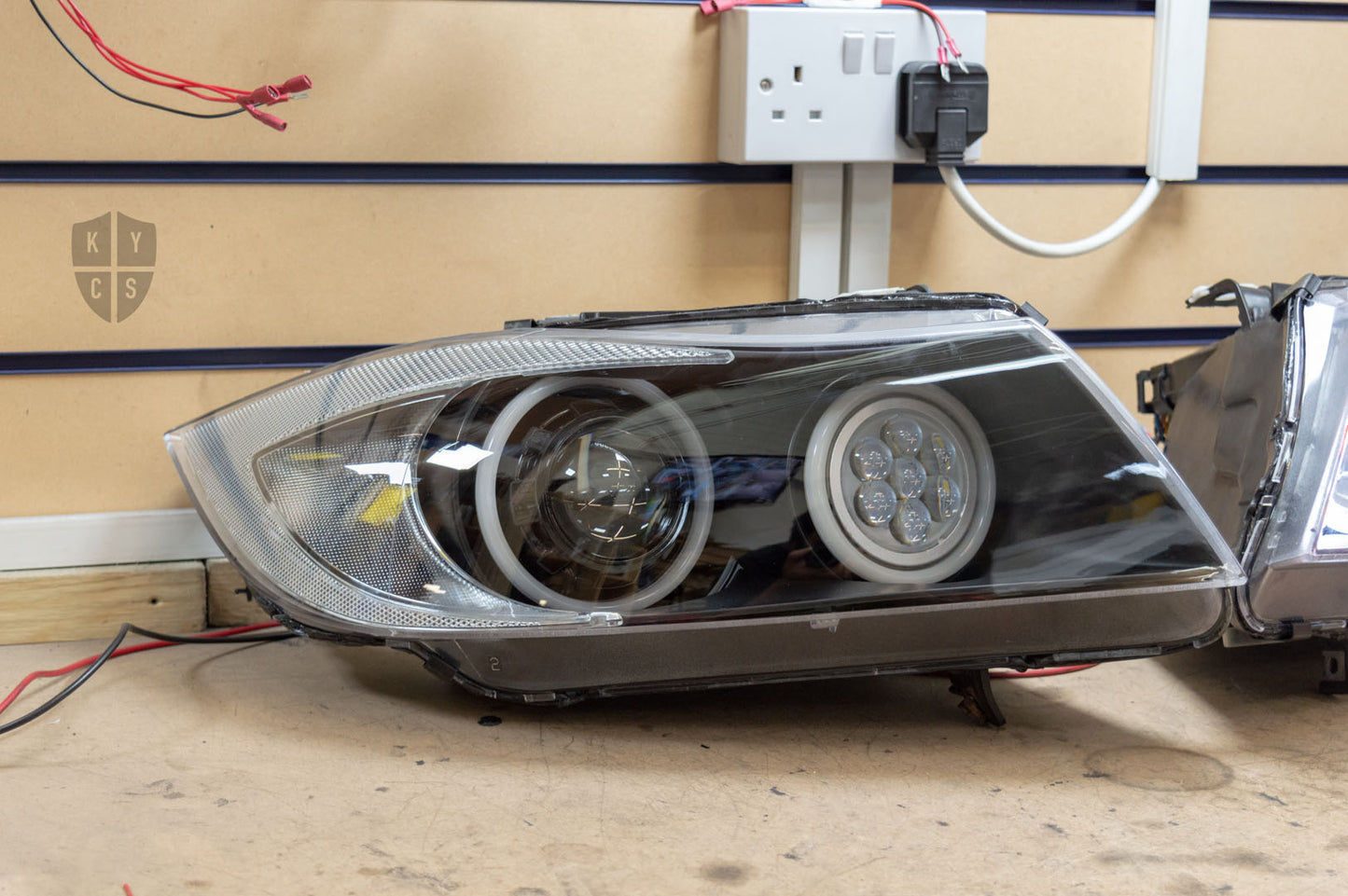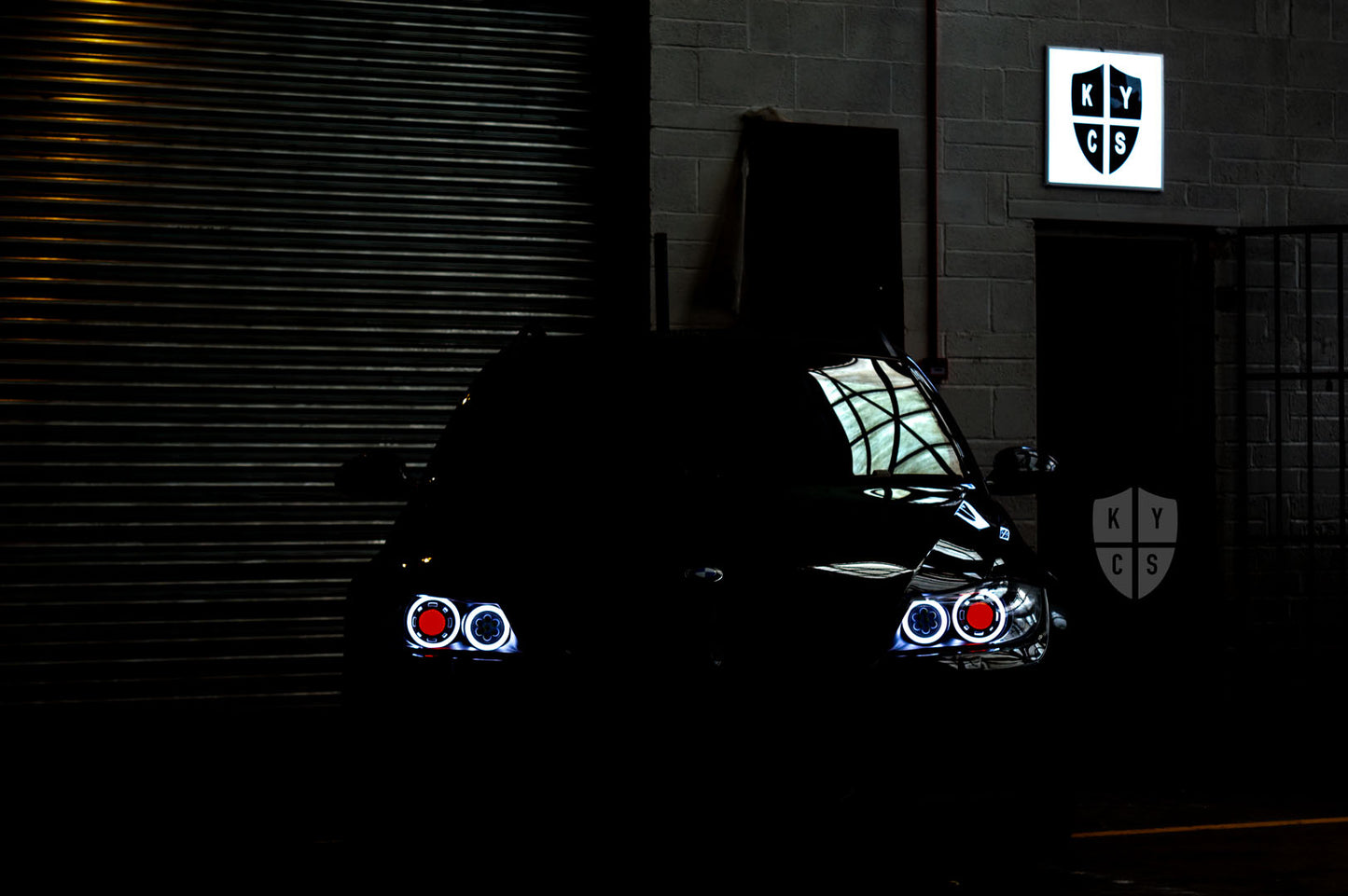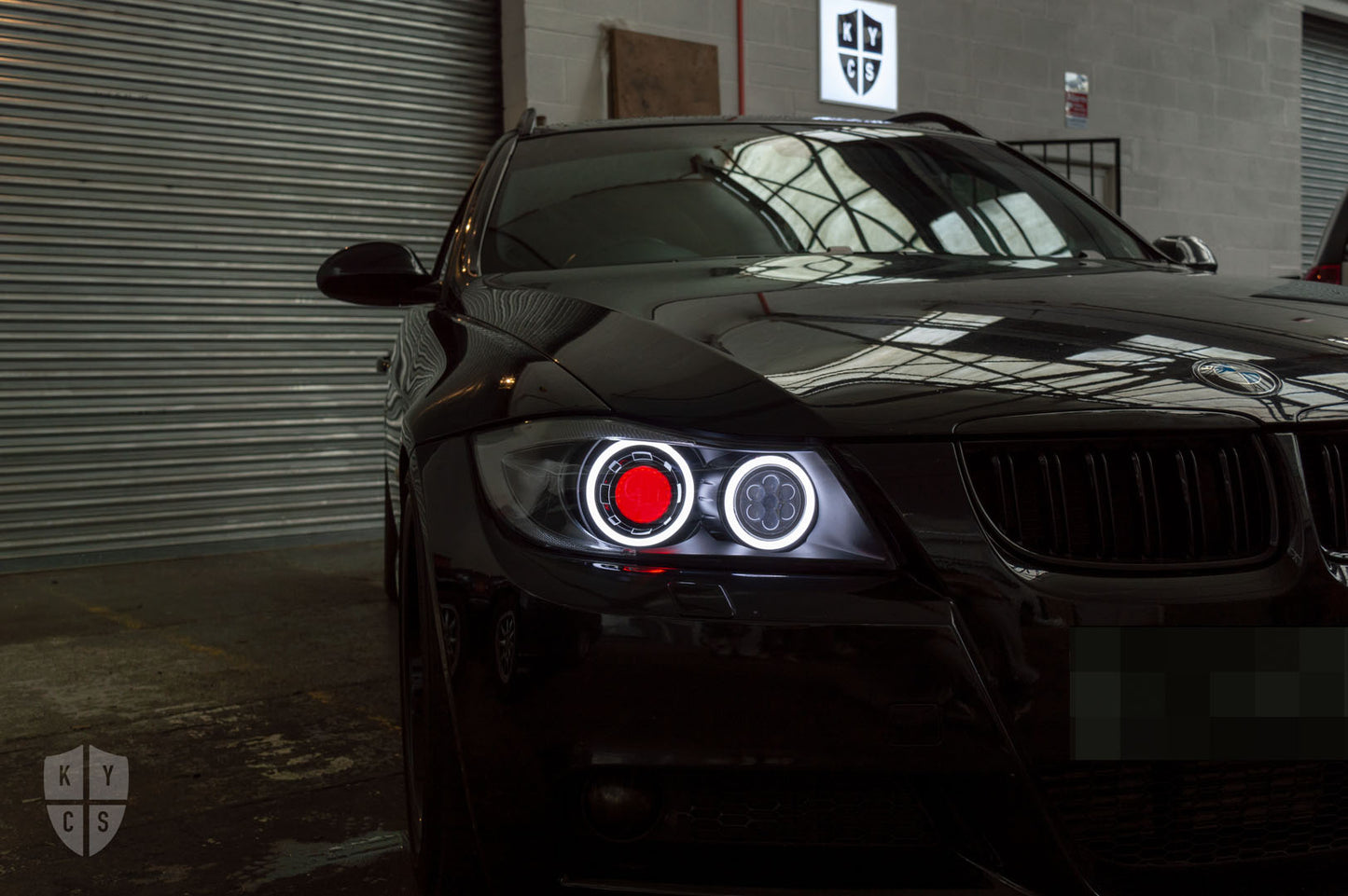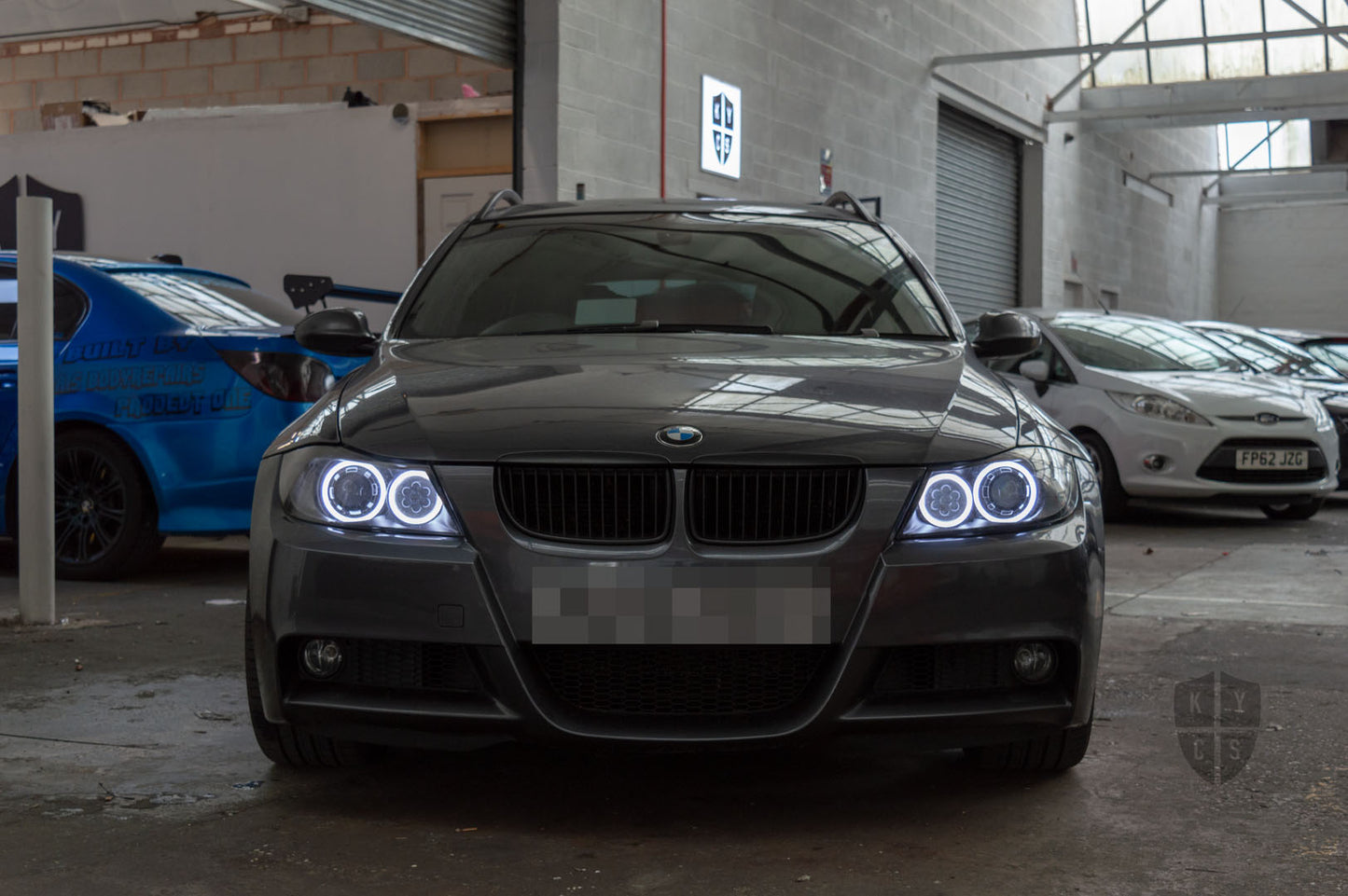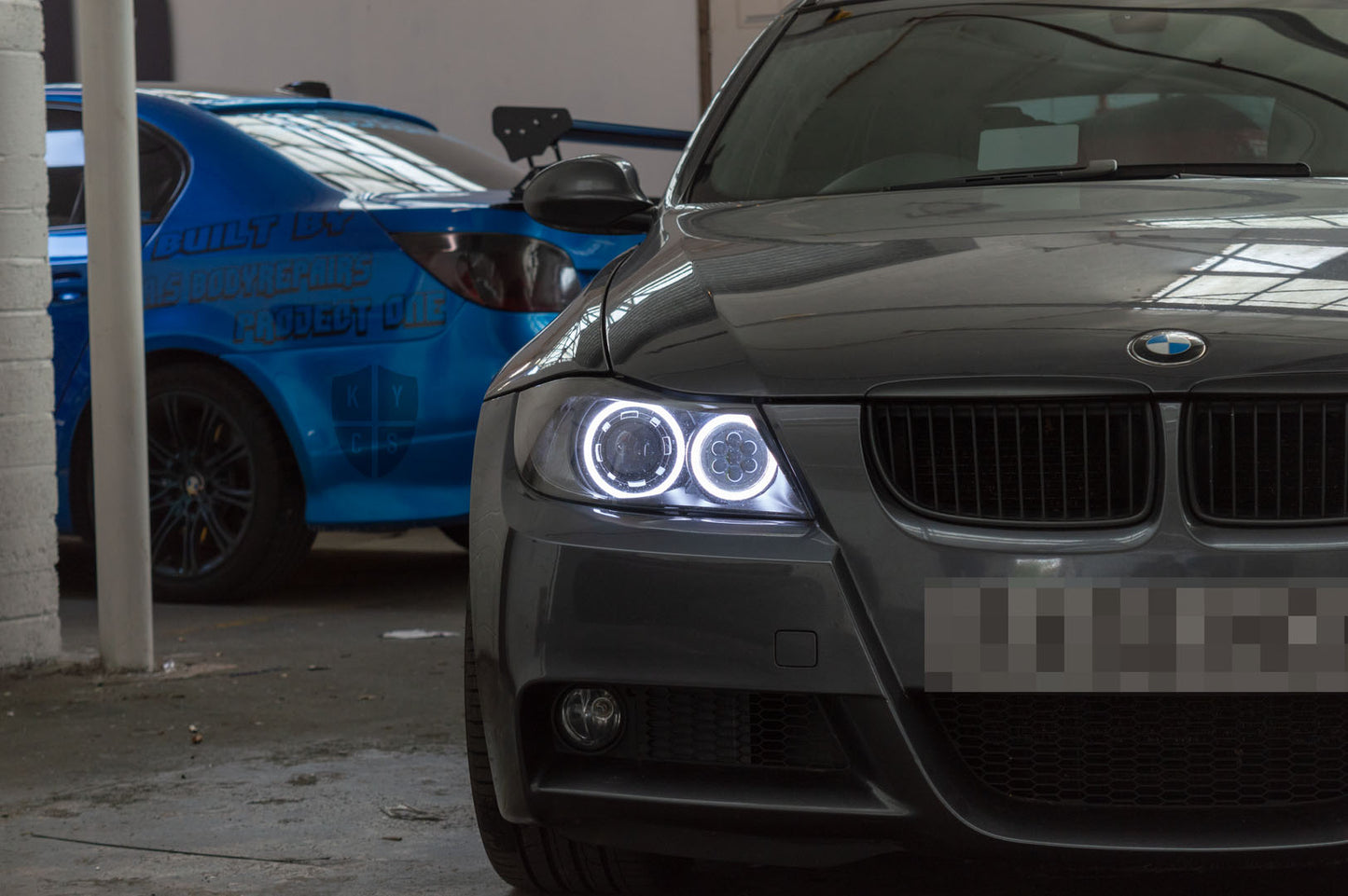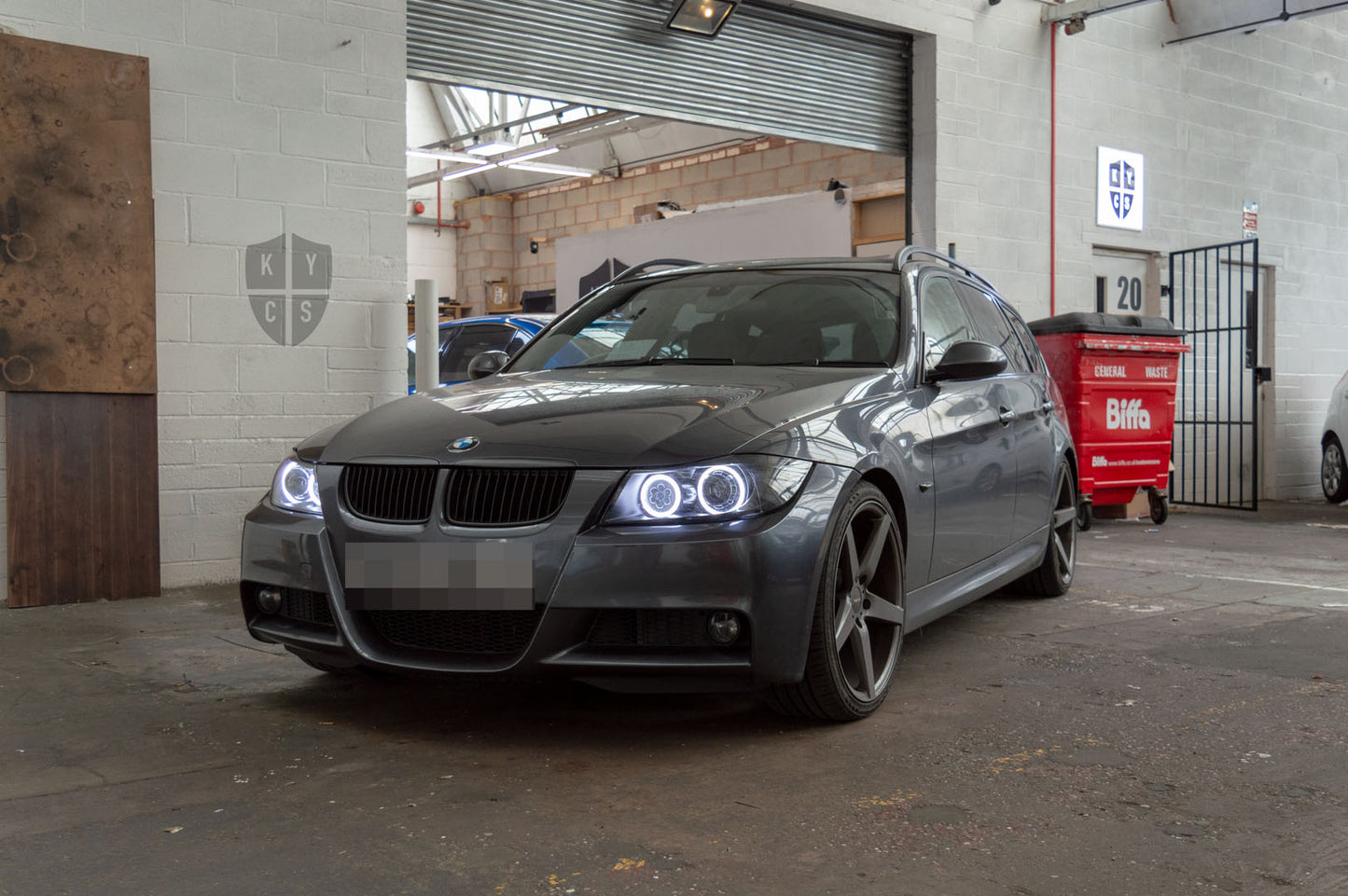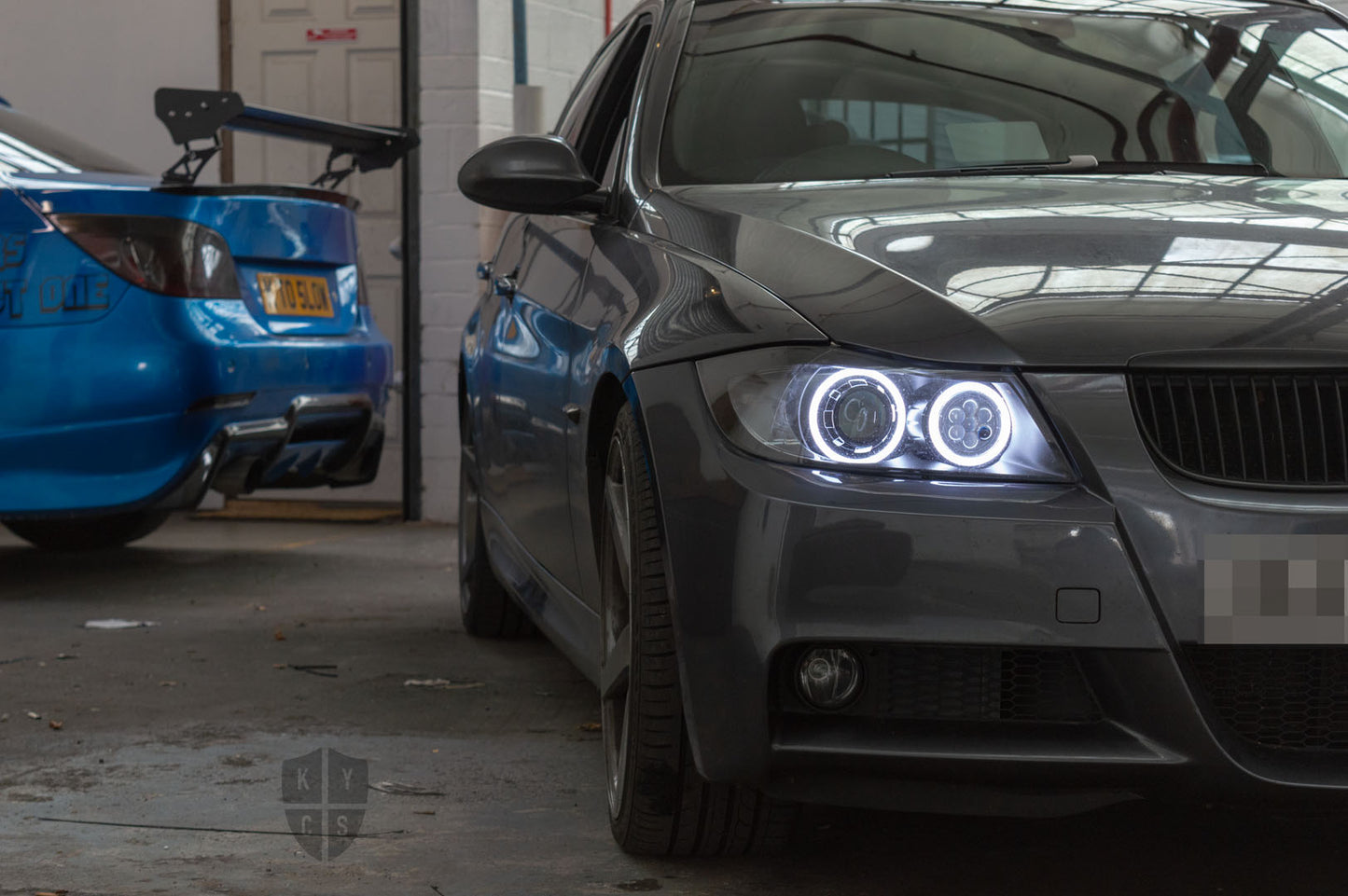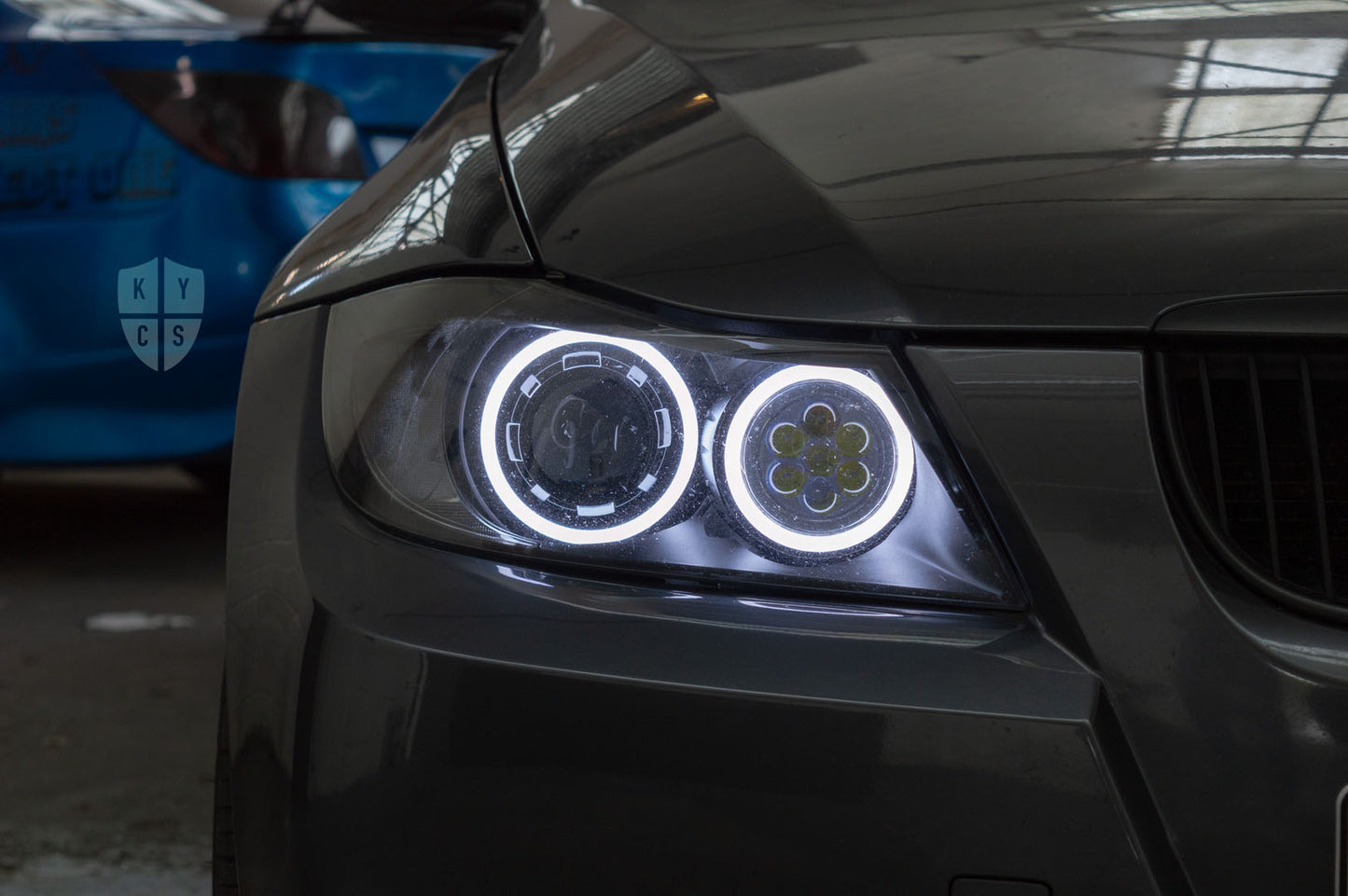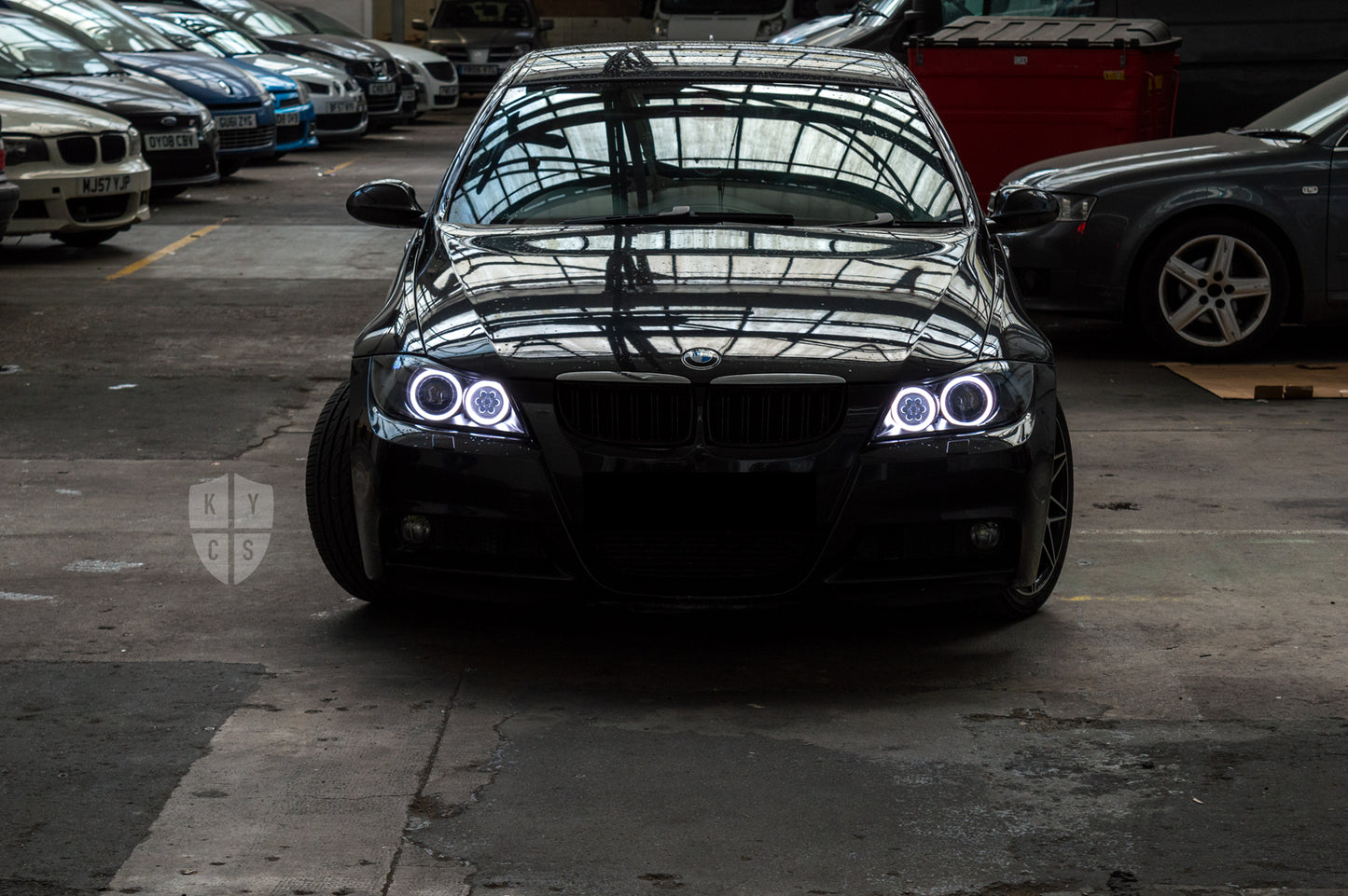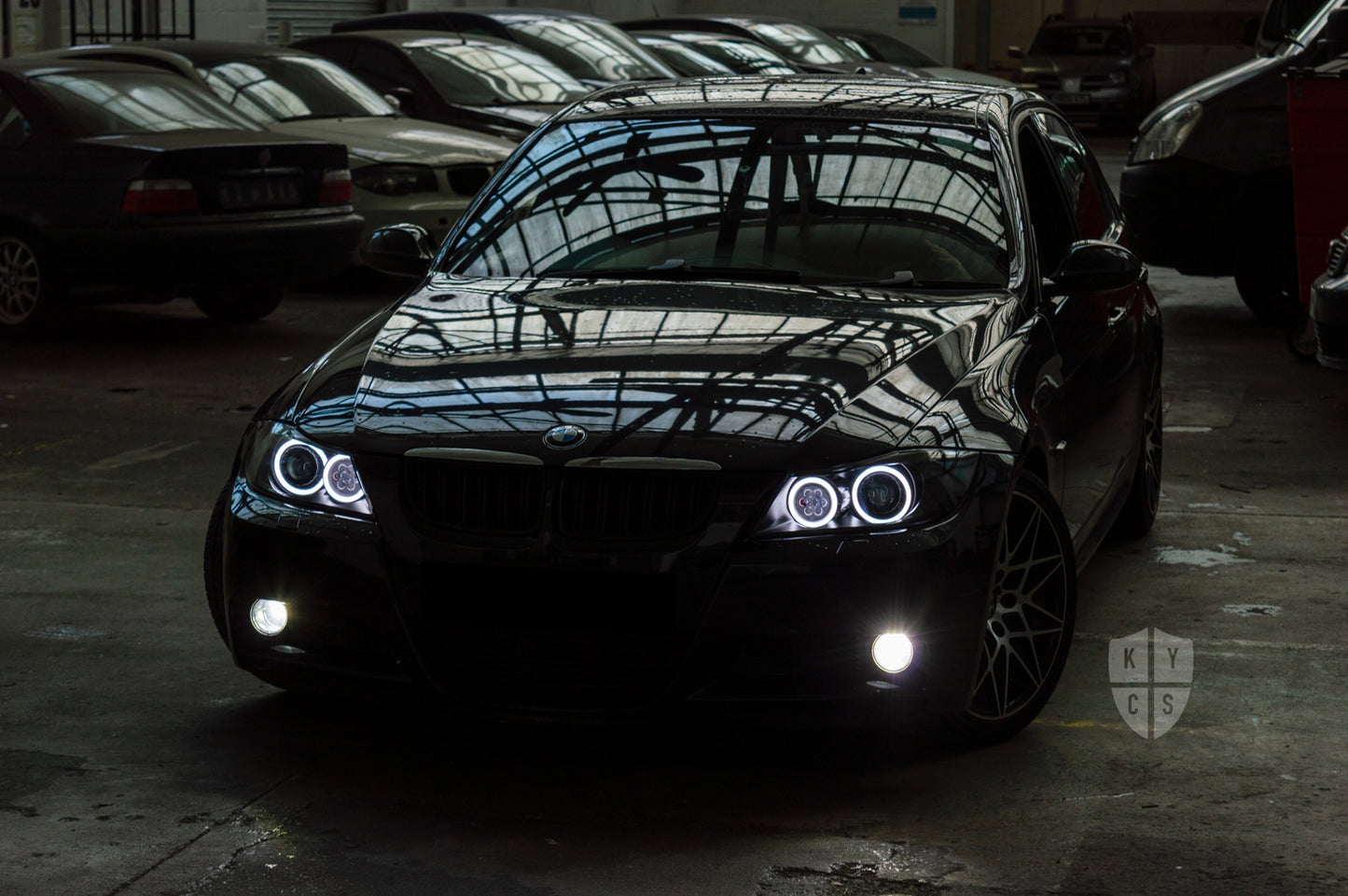 Custom Prebuild/Made To Order Headlights - Road Legality

Our base custom headlight conversions are all road legal and will pass the MOT.
If you have additionally selected components of the conversion that are for show use only (demon eyes or colour changing/chasing angel eyes for example), they are not for use on the public highway.
You can only display white for DRL, parking lights, side lights, low beam, and high beam to the front of the vehicle.
You can only display amber/orange to the front of the vehicle for the indicators/hazard lights.
All other colours are illegal on the public highway, and for show use only.
Custom Prebuild/Made To Order Headlights - Core Exchange Program

If we have your headlights within our inventory, we can offer you our core exchange program. This is where we use our headlights that we have within our inventory to build up your headlights as per your specification.
We will then take your current headlights in on exchange, to ensure minimum downtime for you and provide a same day service.
Both matching headlights we receive in exchange must meet the following criteria:
Are fully functional

Are OEM

Don't have any excessive water ingress

Haven't been opened before

Are not modified in any way

Are fully intact, with no damage to the black plastic casing, and all mounting points are original, intact, and functional

Headlight internals are intact with no physical damage, no water damage, no damaged electrical connectors, or broken/damaged/missing components

Headlight plastic lens covers are intact with no; damage, cracks, scuffs, large chips, large marks, or paint overspray. Lenses can have age related pitting, but nothing excessive that detrimentally affects beam pattern, general light output, or damage/removal/peeling or the UV clear coat
If your headlights do not meet the above criteria and you are booked in, additional charges will apply to purchase our stock inventory headlights (option not always available) for our list price. Alternatively, we can repair and move the headlight internals over to your current headlights where a limited guarantee/warranty is available. Additional options may be available. If you wish not to continue with the booking, fitting rates will still apply along with the cancellation charge stated prior.
If your headlights do not meet the above criteria and they have been sent back as part of the exchange, additional charges will apply to purchase our stock inventory headlights (option not always available) for our list price.
Custom Prebuild/Made To Order Headlights - Care Information

Like all other modifications, your custom headlights require care after being fitted to ensure that you get the most from your new purchase.
It's a similar situation to:
When getting PPF applied to your vehicle - letting the PPF set, and ensuring that your car isn't aggressively washed on the PPF edges

When getting your car painted - letting the paint cure and offgas, and not use any coarse polishing

When fitting splitters or lips - avoiding kerb/potholes or anything similar that would cause damage
As your new custom headlights are a custom/bespoke item, they also require you to take care of them to get the most out of them & to ensure that common issues are avoided. This is not an exhaustive list, but it'll give a good indication of what's required:
Not pressure washing the headlight seals at close range to remove or disturb the replacement sealant when washing your car

Not applying acidic products, or anything that will interfere with the sealant on the headlight when washing your car

Not touching/removing/disturbing the sealant on the headlights

Not applying or directing water into areas of the headlight that aren't designed to be watertight (for example spraying the adjustment mechanisms with soapy water if you're PPFing the headlights)

Not removing any warranty stickers to ensure that your warranty isn't voided

When removing/replacing bulbs, ensuring that the bulb/gasket/bulb holder/cap is seated back on correctly to not allow any water ingress into the headlight
Custom Prebuild/Made To Order Headlights - Guarantee/Warranty
Products
1 year guarantee on all products/parts regardless of manufacturer or supplier. Not valid if the products show signs of tampering, mishandling, mis-powering, reverse engineering, disassembly, installation error (if not installed by us), or if the vehicle is involved in an accident. The warranty is for the purchaser only, and not transferable to a future owner. 

Services
1 year guarantee on all of services/workmanship. Not valid if the service show signs of tampering, mishandling, mis-powering, reverse engineering, disassembly, or if the vehicle is involved in an accident. The warranty is for the purchaser only, and not transferable to a future owner. Cosmetic issues will only be covered by the guarantee for any concerns raised within 28 days. 

Fitting
When fitting is opted for, bumper fitment will be as the vehicle arrived (at a minimum) as long as all the bolts, screws, clips and clamps (fixings) are present and correct when the vehicles arrives. If you are missing or have any damaged fixings, the same fitment cannot be guaranteed. Once a vehicle has left our premises, we cannot guarantee the bumper fitment or alignment - any issues must be raised on vehicle handover. Excess fitting/parts charges may be applicable for non factory fit vehicles, specifically on vehicles that have either; been involved in an accident, have had a previous poor bumper fit, have incorrect fixings present or incorrectly/poor fitting of aftermarket parts. We can additionally supply and fit brand new OEM fixings if in stock, or if advised beforehand. Work undertaken & vehicles left on premises at the owners risk. Wheels must be rechecked and retorqued 50 miles after fitting (if they are removed during the fit). Locking wheel nuts must be supplied on the day for the fitting to be carried out. Any snapped wheel bolts due to bolts being previously over-tightened is on the onus of the owner to repair/remove/refit.
If fitting is not being carried out by ourselves. we recommend professional removal and installation of the headlights, and we are not liable for any damage incurred from self installation. 
Coding may be required for the headlights for all features to function correctly. Coding and associated fees are the responsibility of the buyer.
If we're fitting at our commercial premises, headlight fitting/removal is covered within the guarantee for any issues raised within 28 days, after this time period any remedial work undertaken will be subject to normal fitting charge.
For any fittings carried out by a third party, no refunds/partial refunds/contributions will be made for any warranty work that we undertake.

Fogging/Condensation
We reference OEM workshop material & guidelines for fogging and condensation which is:

Headlight fogging fault pattern

Certain weather conditions can lead to fogging on the inside of the headlight lens.This is not necessarily a fault that requires replacement of the headlight.


Top row (A): Permissible fogging. Headlight does not need to be replaced.
Bottom row (B): Impermissible fogging. Warranty claim to be raised.

Headlights are fogged over
Repair notice for assessing condensation in the headlamp
The images show the difference between mild and severe condensation in the headlamps of various vehicles.
A headlamp with substantial condensation can be recognised by the formation of droplets on the inside of the headlamp unit

The appearance of moisture immediately following cleaning in a car wash or after the vehicle is driven in heavy rain can point to severe condensation and possibly indicate a headlight that is not effectively sealed. Usually occurs only on one side

The condensation phenomenon is promoted by damp, humid air that penetrates into the headlamp from the outside by entering through the ventilation system. This then evaporates in the headlamp while it is still warm, and when the unit cools it then precipitates to form condensed moisture of the inside of the headlamp lens

This neither causes corrosion damage to the headlamp, nor does it exercise a negative impact on the intensity of the light that it emits.

1 Light fogging
2 Heavy fogging

We will only warranty headlights if they fall under heavy/permissible fogging. Anything that doesn't fall within the above constraints is not considered to be an issue, and won't be covered under our warranty. 

All workshop material used for reference only, and we do not own any images or text unless it explicitly states our ownership.
Custom Prebuild/Made To Order Headlights - Terms & Conditions

Certain design configurations may not be possible on your headlights. If this is the case, we will inform you and offer an alternative design.
Your fitting date may be moved due to the following reason(s): Act of God, weather, staff resource issues. If we are unable to fulfil your booking date, you will be given at least 1 weeks notice and rebooked for our first opportunity. We may discount or supply a free upgrade for your headlight specification in return for moving your booking at short notice. We are not liable or responsible for any fees, charges or losses you may experience.
We own all media taken by team members of the vehicle in for the service(s) completed.
No refunds/partial refunds/contributions will be made for any free services that have not been carried out, or partially carried out (for example coding).
By ordering any of our products and/or services, you understand and accept everything outlined.
Custom Prebuild/Made To Order Headlights - Return & Refunds

Due to the custom nature and speciality of these products & services, we do not accept returns, but will exchange any defective components as per our guarantee.
We do not offer a refund since each product & service is unique and bespoke. The cost of the product and service is a combination of our time spent along with our products/stock that have been irreversibly modified for your request. Cancellations are subject to a 25% non refundable fee.
This is in line with Government guidance on custom products. Our products/stock will be demonstrated to ensure that we can show they are not faulty.